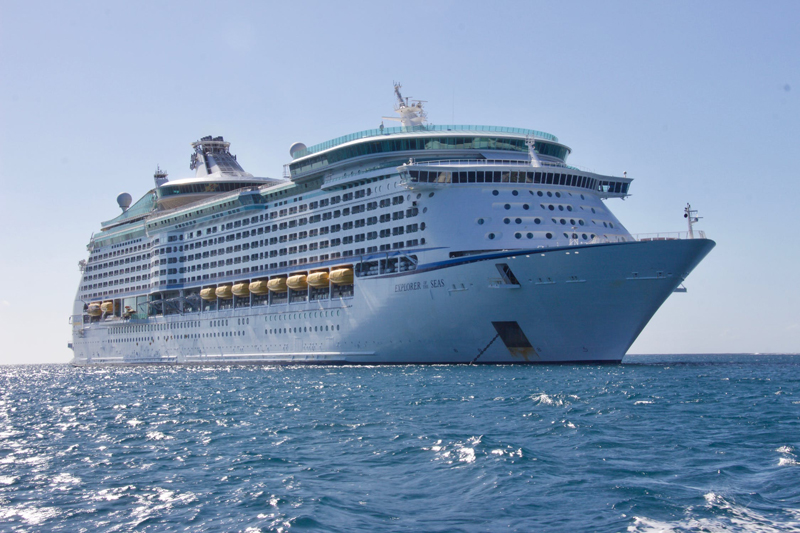 Cruise to anywhere in the world aboard today´s ships. Learn more about destinations, ports of call, and choosing shore excursions.
10 Foodie Finds In Quebec City

Quebec City is an enchanting destination for vacationers. There's so much to see and do in this historic city. Food lovers will be particularly charmed by all Quebec City has to offer. If you're planning to visit Quebec City, here are ten "don't-miss" foods and dining experiences to enjoy.
10 Reasons To Take A Douro River Cruise

Cruises along Portugal's Douro River are growing in popularity. These river cruises travel from Portugal into Spain, sailing through stunning UNESCO World Heritage areas and national parks. If you're planning your next cruise vacation, here are ten great reasons to take a Douro river cruise.
10 Reasons To Take A Norwegian Fjords Cruise

While vacationers often seek out Mediterranean cruises when heading to Europe, Norwegian Fjords cruises are increasingly being added to travel bucket lists. Norway is a stunning destination with some of the best scenery on the planet. Here are ten great reasons to take a Norwegian Fjords cruise.
10 Tips For Planning Your Iceland Trip

Cold is hot in travel, and the trend applies to cruise vacations as well. Today's travelers are seeking out options for traveling to cold destinations via both land and sea. If you're thinking about traveling to Iceland for a cruise or land vacation, here are ten top tips for planning your trip.
5 Great Things To Do In Portland Maine

Maine's largest city, Portland, is a popular port of call for cruise ships sailing on New England/Canada itineraries. This historic waterfront city is a gem, offering so much to see and experience. If you're visiting Portland on your vacation, here are five top things to do while you're there.
7 Best Things To Do In Freeport, Bahamas

Located on Grand Bahama Island, Freeport is a popular cruise port of call. Grand Bahama Island features beautiful white sand beaches, three national parks, a wide variety of water sports and much more. If your next cruise is heading to Freeport, here are seven great things to do there.
7 Great Reasons To Take A Baltic Cruise

Europe's Baltic region is a wonderful destination to explore on a cruise vacation. This area delivers a tantalizing array of learning, adventure and cultural experiences well suited to the interests of every traveler. Here are seven great reasons to take a Baltic cruise vacation.
7 Great Things To Do In Galveston

Galveston, Texas is one of the busiest cruise ports in the United States. This barrier island features 32 miles of beaches, a vibrant downtown historic district, unique museums and a wealth of popular attractions. Here are seven great things to do in Galveston, Texas on your next vacation.
7 Great Things To Do In Tampa

Florida's city of Tampa is home to Port Tampa Bay, one of the ten busiest U.S. cruise ports. The greater Tampa area offers attractions for all interests including theme parks, beaches, historic areas, and superb museums. Here are seven great things to do in Tampa, Florida on your next vacation.
7 Great Things To Do In Vancouver

Vancouver is a stunning vacation destination. Visitors will enjoy Vancouver's magnificent parks, world-class museums and aquariums, an outstanding public food market, memorable dining experiences and a wealth of outdoor activities. Here are seven great things to do in Vancouver during your stay.
7 Top Things To Do In Quebec City

Quebec City is one of the highlights of many Canada/New England cruises. If possible, plan to spend several days pre- or post-cruise exploring the city and its surrounding region. There's so much to see and experience. Here are seven great things to do when visiting Quebec City on your next cruise.
8 Great Things To Do In Ocho Rios

Ocho Rios, Jamaica is a popular Western Caribbean port of call. Vacationers can enjoy a wide variety of experiences here, from active adventures to chill relaxation. If your next Caribbean cruise vacation includes spending time in Ocho Rios, here are eight memorable things to do during your visit.
Alaska

Alaska is an awesome natural location with glaciers, mountains, bears, moose, caribou, and other incredible sights.
Asia

Cruises to Asia are more popular than ever with its diverse and rich culture
Be Captivated in Quito

Vacationers heading to a Galapagos Islands cruise often connect through Quito on their way to the Ecuador's enchanted islands. Rather than stopping in Ecuador's capital city for an overnight stay, knowledgeable travelers know that this UNESCO World Heritage Site is a place to linger and explore.
Bermuda

Bermuda is the classical British tropical island. You can actually see people wearing Bermuda Shorts on the pink sands and golf courses here.
Caribbean

Many cruise ships frequent the islands of the Caribbean which are know for beaches, bars, scuba diving, and much more.
Cruising From Galveston

Galveston, Texas is a popular homeport for cruise passengers. Located on a small barrier island along the Gulf of Mexico, the port is an easy drive for those living in nearby states. The island's 32 miles of beaches, great ships and attractions make it perfect for home port cruising.
Escape The Crowds On Your Next Vacation

Vacations to unspoiled destinations are some of today's most sought after experiences. These locations are filled with beautiful beaches, astonishing amounts of wildlife, and opportunities for discovery and adventure. These five cruises will take you to some of the world's most secluded places.
Five Amazing Multigenerational Cruise Destinations

Vacationing with multiple generations is one of today's top leisure travel trends. Top destinations offer a wealth of activities, enriching experiences and bucket list adventures for all ages. Here are five amazing cruise destinations to consider for your next multigenerational family vacation.
Five For Fun in Fort Lauderdale

Fort Lauderdale, Florida is one of the busiest cruise ports in the world. The area also has miles of beautiful beaches, making it a popular vacation destination as well. If you're planning a cruise from Fort Lauderdale, arrive a few days in advance. Here are five top things to do during your stay.
Five For Fun In Jordan

Looking for a great port to spice up your cruise itinerary? Choose a cruise that visits Jordan. The Hashemite Kingdom of Jordan features world-renowned sites and experiences that are sure to be at the top of any travel bucket list. Here are five reasons to visit Jordan on your next cruise.
Five For Fun In Seattle

Seattle is a major embarkation port for Alaska cruises. It's also an exciting vacation destination in its own right with much to see and do. If you're cruising from Seattle, plan to arrive a few days early to explore. Here are five of the best things to do in the Seattle area during your stay.
Hawaii

Hawaii has been the ultimate tropical destination for many people for decades. Learn more about this fantastic collection of islands.
Linger On Ecuador's Pacific Coast

If you're connecting through Guayaquil for a Galapagos cruise, plan to stay and explore Ecuador's Pacific Coast. Ecuador's shores are lined with beautiful beaches, unspoiled nature preserves, cool surf towns, and great places to visit. This region is one of the travel world's best-kept secrets.
Mediterranean

The Mediterranean Sea is rich in islands featuring exitic foods, history, romance and senic landscapes. This is one of the most popular European cruise destinations.
Mexico

West Coast or East Coast, Mexico is a popular cruise destination year-round.
Plan A Canada Cruise This Year

This year a great time to take a Canadian Maritimes cruise. These scenic sailings offer appealing shore excursions to match a wide range of interests, from history and natural wonders to culinary delights. Here are seven great reasons to consider taking a Canadian Maritimes cruise.
Six Reasons To Take A Canadian Maritimes Cruise

Canadian Maritimes cruises have sometimes been labeled as only for seniors or leaf-peeping aficionados, but that's definitely not the case. These cruises through Canada and New England offer tons of fun for cruisers of any age. Check out these six reasons for taking a New England to Canada cruise.
Six Vacations Of A Lifetime

Many avid vacationers spend their time searching for exceptional destinations and adventures to embark on with those they love. If you're in the market for an amazing vacation filled with immersive experiences and memorable moments, make sure to put these six trips at the top of your bucket list.
Stay Awhile In Guayaquil

Many travelers heading to a Galapagos Islands cruise barely pause on their way through Guayaquil, staying for only a few hours or overnight for flight connections. That's unfortunate, however. Set along the banks of the Guayas River, the vibrant port city of Guayaquil is worth an extended visit.
Ten Great Things To Do in Key West

The "Conch Republic" of Key West, Florida is an exciting port of call for cruise passengers. This southernmost city in the continental United States is filled with colorful gingerbread cottages and sidewalk cafes. Check out these ten great things to do in Key West on your next visit.
Editor's Picks Articles
Top Ten Articles
Previous Features
Site Map
Content copyright © 2018 by . All rights reserved.
This content was written by . If you wish to use this content in any manner, you need written permission.
Contact Nancy Schretter for details.