Beauty & Self
Books & Music
Career
Computers
Education
Family
Food & Wine
Health & Fitness
Hobbies & Crafts
Home & Garden
Money
News & Politics
Relationships
Religion & Spirituality
Sports
Travel & Culture
TV & Movies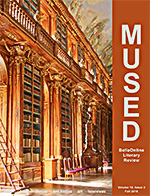 The autumn equinox, that balance point of light and dark, is closely tied to the moon. In China the Moon Festival happens around the autumn equinox, celebrating gratitude and the warmth of good friends and family. This year it was Sept 15th. Our last eclipse of 2016 was a penumbral lunar eclipse on Sept 16th. It fell in conjunction with the full harvest moon, also a symbol of thankfulness and appreciating those who care about you. The autumn equinox is a perfect time to add to those celebrations. It's a wonderful moment to treasure all we have and to share warmth with those who support us.

Autumn Equinox 2016 issue of Mused

Cempasúchil - Marigold Salsa and Chicken
Mexican Food - Mickey Marquez, Editor

Savory and floral, the promise of the Mexican marigold is to wake the dead; but sometimes the senses of the living could use a little enticing as well. This is a simple version of a traditional sauce that customarily is tweaked according to each cook's personal taste and style.




The Chocolate Sundae Mystery - book review
Children's Books - Launa Stout, Editor

Gertrude Chandler Warner writes The Chocolate Sundae Mystery. Boxcar Children Mystery #46 takes place in the Alden Family's town. Join them ins this mystery.




Ghostbusters (2016)
Movie Mistakes - Isla Grey, Editor

Who are you going to call when ghosts create havoc in New York City? Try to find these movie mistakes in 2016's "Ghostbusters".




Beautiful Losers Book Review
Suspense / Thriller Books - Karen Hancock, Editor

Kim Slade, a psychologist specializing in clients with eating disorders, is being stalked. She believes it is by a former model who is disfigured and bitter. Kim also has a facial disfigurement, but is confident in her personal relationships, so she can't understand why this man is after her.




Finger Lakes Wine and Dr Konstantin Frank
Wine - Peter F May, Editor

Dr Frank proved that classic vinifera wine grapes could succeed in the cold of north east America. 'Finger Lakes Wine and the Legacy of Dr Konstantin Frank' by Tom Russ is primarily the biography of Dr Frank, and his family from before his birth to after his death in 1985.




Rams Film Review
Drama Movies - Angela K. Peterson, Editor

"Rams", set in a remote corner of Iceland, transcends cultural boundaries as it tells the story of two estranged brothers who spend forty years living side-by-side without speaking.


| Google+ |
E D I T O R R E C O M M E N D E D
Bird by Bird by Anne Lamott


A funny, unpretentious, sympathetic look at the writing life. The section on allowing yourself to write a crappy rough draft (so you can get it done in the first place) is worth the price of the book alone.
Suzanne Somers´ Eat Great, Lose Weight


No one knows the struggle of dieting and weight loss better than Suzanne Somers. Through experimentation and countless consultations with physicians, she lays out a fool proof plan on how to eat great food and still lose weight.
Ordinary People as Monks and Mystics


This non-denominational book is appropriate for any religious path, and helps you to explore your spirituality whether you are more of a mystic or more of a monk. Both approaches are valid.