Beauty & Self
Books & Music
Career
Computers
Education
Family
Food & Wine
Health & Fitness
Hobbies & Crafts
Home & Garden
Money
News & Politics
Relationships
Religion & Spirituality
Sports
Travel & Culture
TV & Movies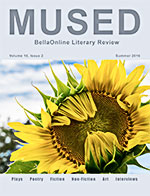 For many people, summertime is the perfect time to explore creativity. Plein air artists bring easels to gardens and beaches, showcasing nature's colors in oils, acrylics, and watercolors. Photographers ferret out a million sights to immortalize. Poets and writers stretch languidly beneath a shady oak tree, listening to the gentle buzz of insects, and constructing entire worlds out of the ether.

Enjoy the creativity of our community of artists - and then explore your own! We'd love to see your works for upcoming issues!

Summer Solstice 2016 issue of Mused

Slow Cooker Chicken & Veggie One-Pot Recipe
Quick Cooking - Karen Hancock, Editor

Too busy to cook? This easy dish goes together quickly - in 15-20 minutes, and cooks while you deal with more important matters. Pair it with crusty bread and your entire dinner is done.




Sewing for the Best Fit
Sewing - Cheryl Ellex, Editor

Whether you are sewing a garment to fit a toddler, teen, mature figure, hard-to-fit body contours or challenging physical circumstances, strive for the best fit that pattern and fabric will allow.




Clean Out Your Closet For Fall
Teen - Michelle Anne Cope, Editor

It's time to clean out your closet! You can call it getting ready for fall, or a quest to find that painting your soon to be visiting grandmother gave you. Whatever you wish to call it, let's venture into your closet to organize and perhaps to find some treasure.




Astronomy – Why?
Astronomy - Mona Evans, Editor

Astronomy is an ancient science, and today a popular profession and pastime. But what attracts people to astronomy? What's special about it? Here are some answers to this question in the words of astronomers through the ages.




The Tower Card Interpretations
Tarot - Linda J. Paul, Editor

The Fool's journey through the Major Arcana takes a sharp twist when he moves into The Tower. When your life goes topsy turvy and you don't know which way to turn, it's hard to understand that sometimes it takes a leap of blind faith to go forward once again.




Never Plant In Another's Woman's Garden
Stress Management - Debbie Mandel, Editor

The moral of the story is don't plant in another woman's garden –even if you are asked. Women are competitive creatures and planting for another woman will bring up unruly feelings even if they have been buried deep in the subconscious. Here are 3:


| Google+ |
E D I T O R R E C O M M E N D E D
Suzanne Somers´ Eat Great, Lose Weight


No one knows the struggle of dieting and weight loss better than Suzanne Somers. Through experimentation and countless consultations with physicians, she lays out a fool proof plan on how to eat great food and still lose weight.
Ordinary People as Monks and Mystics


This non-denominational book is appropriate for any religious path, and helps you to explore your spirituality whether you are more of a mystic or more of a monk. Both approaches are valid.
Building School Success with ADD


Finally, there is help for kids with ADD who hate school. This small book is filled with practical tips to make school life better for students with ADD! Use this book to make a positive start this year. Building School Success with ADD can make a difference.