Beauty & Self
Books & Music
Career
Computers
Education
Family
Food & Wine
Health & Fitness
Hobbies & Crafts
Home & Garden
Money
News & Politics
Relationships
Religion & Spirituality
Sports
Travel & Culture
TV & Movies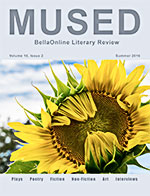 For many people, summertime is the perfect time to explore creativity. Plein air artists bring easels to gardens and beaches, showcasing nature's colors in oils, acrylics, and watercolors. Photographers ferret out a million sights to immortalize. Poets and writers stretch languidly beneath a shady oak tree, listening to the gentle buzz of insects, and constructing entire worlds out of the ether.

Enjoy the creativity of our community of artists - and then explore your own! We'd love to see your works for upcoming issues!

Summer Solstice 2016 issue of Mused

Six Signs of a Spiritual Awakening
New Age - Deanna Leigh Joseph, Editor

Since we have entered into the age of Aquarius, people seem to be experiencing a spiritual awaking, and this seems to happen in waves! 

Here are the signs you may be going through a spiritual awakening!




Roasted Corn and Red Pepper Salad Recipe
Holiday/Seasonal Cooking - Allyson Elizabeth DŽAngelo, Editor

My Roasted Corn and Red Pepper Salad recipe is easy to make, full of flavor and uses fresh corn kernels which are slightly roasted and added to aromatics that will make your taste buds go crazy! This is ideal as a side for cookouts or indoors with practically anything you wish. Enjoy!




Services Not Required
Autism Spectrum Disorders - Tara OŽGorman, MSW, Editor

When a child is diagnosed with an Autism Spectrum Disorder (ASD), parents often assume there will be a multitude of resources available in the child's school system. This is not always the case, especially when the school determines services are not required.




Cleaning AND Organizing
Cleaning - Tammy Judd, Editor

Our homes need constant attention - whether it is cleaning or organizing or quite possibly both. We are discussing the differences and how they can help each other.




The Lady in the Car with Glasses and a Gun Review
Drama Movies - Angela K. Peterson, Editor

Danielle, a young secretary, "liberates" her boss's car and sets off for the French Riviera. The lark threatens to turn into a nightmare as she falls for an Italian thief and her grip on reality begins to slip.




Money, Mishaps and Murder Book Review
Suspense / Thriller Books - Karen Hancock, Editor

The grisly murders of two people are being investigated by CPI Dexter Smalacombe and his new sergeant, Emily Corndon. The murders don't seem to be connected, but as they delve further and find new clues, the connections become obvious, and the twists and turns will keep readers on edge.


| Google+ |
E D I T O R R E C O M M E N D E D
The Weiser Field Guide to Cryptozoology


The Weiser Field Guide to Cryptozoology by Deena West Budd includes information, interviews, and stories about forty different cryptids seen in various places all over the world by credible eyewitnesses like policemen, rangers, and doctors. Readers will learn where and how to find flying humanoids, hairy humanoids, giants of all kinds including rabbits, bats and spiders, goblins, and vampires.
Making and Dressing Cloth Dolls


This ebook contains patterns and step by step instruction for making 5 different cloth dolls. These are some of the most popular dolls on the Doll Making Site all together in one handy book.