Beauty & Self
Books & Music
Career
Computers
Education
Family
Food & Wine
Health & Fitness
Hobbies & Crafts
Home & Garden
Money
News & Politics
Relationships
Religion & Spirituality
Sports
Travel & Culture
TV & Movies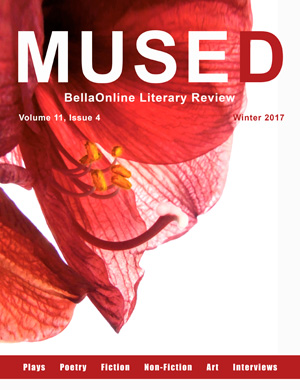 We all travel on this blue-green ball around our very own star each year, sliding a little closer, sliding a bit further away. The balance is critical. Too much closer and we'd roast. Too much further away and we'd freeze.

We should be aware of just how blessed we are that our Earth is "just right" - and do what we can to keep our world healthy. It's the only one we have.

Enjoy the Mused Winter Solstice 2017 Issue



Fat Cat Takes the Cake Book Review
Suspense / Thriller Books - Karen Hancock, Editor

Quincy, a fat cat owned by Chase Oliver, is always finding trouble. When he finds a dead body after a high school reunion and Chase's best friend Julie Larson is the main suspect, Chase must use her skills to find the real murderer.




A Little Faith
Baptist - Celestine A. Gatley, Editor

Have you ever wondered whether you have enough faith to please God? Do you have the gift of faith? As you take a look at your life circumstances and compare them to your blessings, can you say that it was your faith in God that brought you through your situation?




Hearts & Flowers
Tatting - Georgia Seitz, Editor

Hearts & Flowers by Mary Joseph Donohue and Sue Hanson. From the files of the Online Tatting Class, March 2007- 2008. Use with permission.




Avoid these "Health Foods"
Nutrition - Moss Greene, Editor

Not all so called "health foods" are that good for you. Some may be harmful to your health. Others may not be all they claim to be. Here are two products that you should probably take with a "grain of salt."




Review of Mantras Made Easy
Yoga - Korie Beth Brown, Editor

Published in 2017, this book is meant to demystify the use of mantra in meditation, and to open the practice to those of all religions and spiritualities. Does this approach work?




Canis Minor – the Lesser Dog
Astronomy - Mona Evans, Editor

Canis Minor is one of Orion's hunting dogs. It trots along behind its master unperturbed by the unicorn (Monoceros), and leaving the hare (Lepus) to the greater dog (Canis Major) to chase. It's a small constellation with not much more to offer than one bright star, but it has a long history.


| Google+ |
E D I T O R R E C O M M E N D E D
Personal Alarm & Whistle Combo


This is a wonderful personal alarm and whistle combo suitable for kids or adults. The personal alarm fits on all size wrists, and is easily adjustable with the Velcro type strap, which keeps it nearby while walking, jogging, or traveling. The alarm is loud and quickly alerts those nearby if one needs help.
Heart Beat


A clean cozy mystery for pleasure reading. Murder and mayhem with a side of humor. Second volume of the Evelynton Murder Series