Beauty & Self
Books & Music
Career
Computers
Education
Family
Food & Wine
Health & Fitness
Hobbies & Crafts
Home & Garden
Money
News & Politics
Relationships
Religion & Spirituality
Sports
Travel & Culture
TV & Movies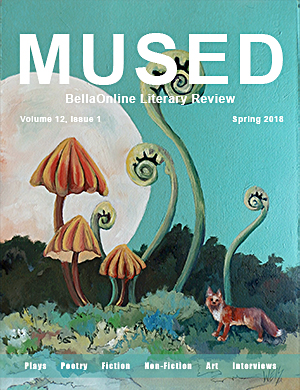 It can seem sometimes as if our world is whirling faster than we can keep up with. It can become overwhelming. Exhausting.

A balm which rejuvenates is to explore the creative efforts of individuals around us. To begin, turn off the noise and clatter of the world at large. Take a deep breath and instead focus on connecting with one fellow human being who presents their jewel of a thought to you. Examine it mindfully. Consider its meaning. Soak in the moment with this one human. Then connect with another. And another.

Enjoy the Mused Spring Equinox 2018 Issue



I Can't Get Gauge!
Knitting - Korie Beth Brown, Ph.D., Editor

That most revolting of all developments - how can you make the sweater if you can't match the given instructions?




Yoga Rising Review
Yoga - Korie Beth Brown, Editor

Yoga is there for everyone, and yet so many feel unworthy. Melanie Klein's anthology focuses on yoga and body image, but on so much more.




The Dome in Environmental + Land Art
Art Appreciation - Camille Gizzarelli, Editor

The dome is a familiar architectural wonder: the US Capitol, and St. Peterís Basilica in Rome. Iíll discuss the origin of the dome and its influence on one environmental/land artist.




Crime Wave Film Review
Drama Movies - Angela K. Peterson, Editor

Director Andre de Toth elevates this B-picture to a higher level through his use of stunning black-and-white photography and creative composition. An authentic performance by Sterling Hayden anchors this crime drama shot on location in 1950s Los Angeles.




Spicy Korean Fried Rice Recipe
Quick Cooking - Karen Hancock, Editor

Got Leftovers? The spicy sauce in this recipe can transform meat or poultry into something very different from what it was originally - nobody will guess they're eating leftovers. Stir-fried with vegetables and rice, this 30 minute meal will become a favorite.




Somewhat Healthy Winter Squash Cake Recipe
Desserts - Karen Hancock, Editor

Although the term "healthy dessert" is usually an oxymoron, this delicious cake has several healthier aspects than the usual sugar-laden overly sweet cakes we usually make. It's perfect with coffee, tea, or milk, and no one will know that it's good for them. As a bonus, it's also vegan.


| Google+ |
E D I T O R R E C O M M E N D E D
Stranger Safety Video


From Julie Clark, the mom and creator of the Baby Einstein series stars as the super energetic safe side chick in her highly entertaining, yet kid-sized educational video to teach children about strangers. Julie Clark, along with John Walsh the host of Americas Most Wanted Show have created a video packed with sound advice on Stranger Safety for kids age 2-10.
Christian Living Site Shop


Find book reviews of Christian Books both fiction and non-fiction. Read my experience in purchasing a Bible Book Cover.